You are going to love our e-commerce system RSHOP. It brings fast and simple administration of your e-shop and also plenty of advanced modules and functions which your customers would worth.
The right e-commerce solution for your e-shop
RSHOP system means flexible e-commerce solution for any e-shop. Unlike many other systems there is an emphasis on user comfort and simplicity for administrator as well as the customer. Furthermore it supports editing basic SEO parameters and is helpful with an effective SEO optimization building.
Essential advantage of this system is simple and fast management of the catalogue and particular products. Whole product catalogue is simple to edit from excel .csv file - all the goods might be changed within very short time. Administrators will appreciate also simplicity and intuitiveness of edit interface.

System RSHOP is "SEO friendly"
SEO ON-PAGE optimization is an optimization of all factors connected to content and structure of the shop. It brings high visibility of your e-shop in search results of all the major search engines (Google, Yahoo, etc.)
E-commerce system RSHOP enables set-up of common ON-Page SEO parameters like web page title, use of headings h1 - h3, editing mega tags keywords and description but also editing image alternative texts and titles.
More pros of e-commerce system RSHOP
RSHOP system can be connected to any information system providing interface for importing and exporting products, customers or orders - depending on functionality required.
Another advantage is possibility to implement any of offered modules including payment and loan modules like Tatrapay, SporoPay, Uniplatba in Slovakia etc.
All the elements and modules the system contains are finely tuned and already tested by many e-shops using system RSHOP-ONLINE SHOP. The long-term customers' satisfaction is our fundamental goal.
E-commerce system RSHOP contains:
Product variations - product attributes administration, possibility to change price for different product property values
Technical parameters - creating certain types of wares and technical parameters belonging to them
Wares actualizations by importing data from excel file .csv; Sales - special offers management
Shopping cart
Order - selection of delivery and payment method, order confirmation via e-mail and pro forma invoice in .pdf format
Dual price display - in Euro and Slovak crowns
Fast search with suggestions
Users administration - user registration, account administration and order overview, possibility for administrator to edit or delete any account
Sending link to a friend - form for certain product recommendation via e-mail
Product page print -  adjusting product page for printing
Administration of informative text sections of the web page
Most requested additional modules 
Plenty of additional modules and functions bring impressive variety of your e-commerce system. Here are the most requested ones:
Comparison of technical parameters of the products 
Product filters based on chosen criteria - filtering parameters up to individual requests
Payment modules implementation - (for Slovakia - Tatrapay, Sporopay, Uniplatba, ePlatbyVUB, Quatro, Cetelem, PayPal, Card pay etc.)
Product evaluation by users
Shopping advisor - interactive advisor with editable text for certain categories of catalogue and also for each product separately
Watch-dog - an e-mail notification in case the price of chosen product decreases below set limit
Wish list – personal list of products for registered users
Language versions
Banners and banner places management
Poll administration
Newsletter
Portfolio - E-commerce solutions - e-shops
Client: tpd

TPD.sk is e-shop the largest electro-format stores in Slovakia. It is a member of Euronics network.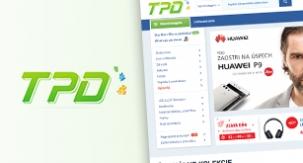 Click the thumbnail for more info please